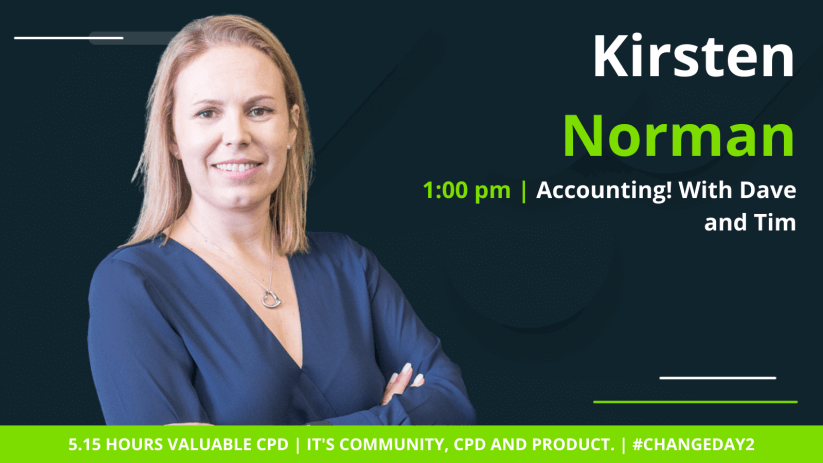 Kirsten Norman speaking at #ChangeDay2
Kirsten Norman, our Founder and Principal at BizWhiz Business Solutions, will be a speaker at the upcoming Change GPS '#ChangeDay2' event.

Change GPS are assembling the cream of the Australian accounting industry as expert panelists and speakers for the #ChangeDay2 event, scheduled for Monday 1st February at the Brisbane Convention and Exhibition Centre. The event will also be available online.
#ChangeDay2 is for the Australian accounting industry; for firm owners and practicing accountants, BAS Agents and Bookkeepers. Panelists will provide insights into key industry issues, including the biggest and most urgent issues affecting accounting right now, and the solutions (to solve the problems of the profession). Information will also be provided to the industry on the latest estate planning and cutting edge asset protection strategies, as well as a review of the current Change GPS products, as well as several new products.
KIrsten is an invited speaker at the event, and in association with Lielleta Calleja (Director - All That Counts), Kirsten has been instrumental in developing the ChangeGPS Bookkeeper program and resources for Australian Bookkeeping and Accounting Firms. At the #ChangeDay2 event, they will launch the GPS Bookkeeper program, and will also provide insights on how BAS Agents and Bookkeepers can use the valuable Change GPS resources.
Details on the #ChangeDay2 event: https://change-gps.lpages.co/changeday2/