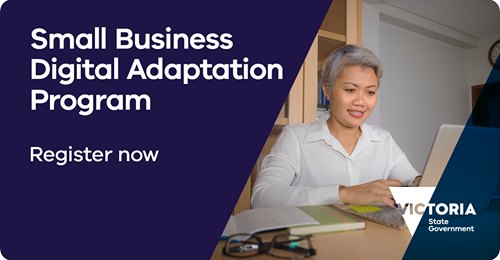 Business Victoria - Small Business Digital Adaptation Program
Small Business Digital Adaptation Grant Program

Business Victoria is currently offering a rebate of $1,200 to assist Victorian small businesses to improve the digital capability of their day-to-day business operations.
What support is available?
Businesses can register to trial selected digital business management tools to adapt websites, transition to e-commerce and manage finances from suppliers who have partnered with the Victorian Government.
The current list of available digital product suppliers for this program are:
More suppliers are expected to be added to this list in early 2021.
If the business continues to use an approved digital product (listed above), beyond the initial trial period, they can apply for a rebate of $1,200 to offset the costs of accessing that product for 12 months. Businesses are responsible for the ongoing costs of access to the digital product after the first 12 months covered by the rebate.
To be eligible for the rebate, the business must be a new user of the product. For example, if you are a current user of Xero, than you would not be eligible for a rebate on your existing Xero software, however the rebate may be of assistance to you should you have an interest in trialing another digital product (i.e. Shopify, Square etc.) to assist your business.
In the case of Xero, if you know of another business that may have considered moving to Xero, this may be a great opportunity that we may assist them in starting to use the software (particularly in terms of receiving the available government rebate if they operate the business in Victoria).
To register for the 'Digital Rebate' Program
To register for the program, businesses need to follow 3 steps.
Complete the online registration form to confirm eligibility

Sign up and purchase their preferred digital product from one of partner product suppliers available under the program.

Apply for the purchase rebate of $1,200 to cover 12 months access to the product of choice.

Once registered, businesses can complete trials of multiple digital products, as well as participate in unlimited digital training workshops, up until 28 February 2021.
Program registrations close on 28 February 2021. Applications for purchase rebates to cover 12 months product access will be open until 31 March 2021 or until funds are exhausted.
What does the program cover?
Products chosen by eligible businesses must be:
A new product not currently used by the business

An upgrade of an existing product with additional product features providing specific digital adaptation capability (i.e. upgrading an existing website to an e-commerce site), or

A product available under the program that has been used by the business before (more than 1 year ago) that it would like to resume using.

Further Information on the Digital Adaptation Program
Full details on the Small Business Digital Adaptation Program can be viewed on this link: https://www.business.vic.gov.au/support-for-your-business/grants-and-assistance/business-resilience-package/Small-Business-Digital-Adaptation-Program
If you are interested in the program, and would like further assistance with your registration or in implementing the digital products within your business, please contact us. You can also submit your registration for the program via the Business Victoria website (https://www.business.vic.gov.au/support-for-your-business/grants-and-assistance/business-resilience-package/Small-Business-Digital-Adaptation-Program#Registration-form).
We will continue to keep you informed of similar opportunities that may be of benefit to your business.